single post
2016 Spring & Summer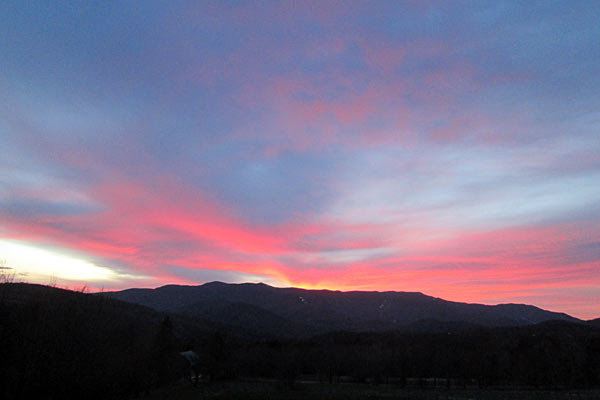 A sample from photos of this year's events begins with the April 29th photo of one of the many sunsets that we view from our dinner table.
On May 4th we traveled to Stéphanie and Henry Myers' home in Montreal to meet our first great-grandson, Logan James Myers, who was born on April 3rd.
July 4th weekend this year included a visit from our 3 daughters and their spouses. We celebrated our recent 62nd wedding anniversary with them at the Pitcher Inn.
On the last day of July a surprise birthday party to celebrate Bebe's 85th (August 3) took place at the new Home Plate restaurant in Waitsfield. Wow ! Was it ever a surprise. Sixty people attended. This photo has Bebe with Tom Norwood and Kit Wilson.  Doug and Kristen are in this one with Karen and Tracy.
The party included extended family, horsey and skiing friends and as many of her local friends as Home Plate could accommodate.
Loretta's decorations and the great attendance made it a big success.
And here is the birthday cake !
The last photo is from our annual Bob Stevens birthday bike ride to celebrate his 87th ! We had to settle for a birthday croissant this year.
• More Winterset adventures •