single post
Costa Rica in November 2016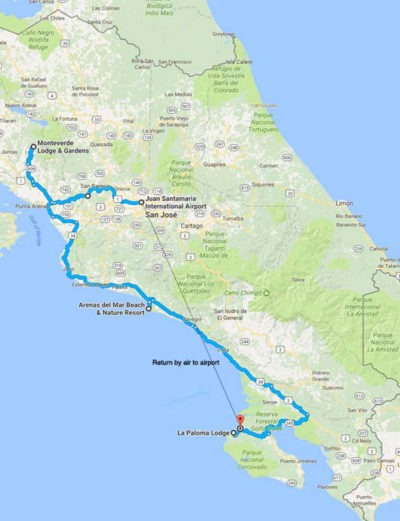 Bebe and Howie took a 6AM bus from Concord NH to Logan airport and boarded a 10AM flight to San Jose, Costa Rica (via Dallas) and were taxied to a Marriott hotel for the night.
At 8 the next morning a driver took us on a beautiful drive to the Monteverde cloud forest to begin two days of trekking and spotting  birds, animals and insects from elevated skywalks. A keen eyed guide with a spotting scope helped us spot birds, a sloth and a coati. This is a sign in our room overlooking the forest at Monteverde Lodge.
On day 3 we traveled down from the mountains and along the Pacific coast to  Manuel Antonio National Park. We paused at a river crossing to photograph crocodiles then continued to Arenas del Mar. The beach below our unit connected to miles of hiking at water's edge.
The following day included a tour by boat through a mangrove forest where we spotted birds, iguanas and tiny bats.
On day 5 we traveled further south to a pier on the Sierpe river where boats taxi passengers to resorts on the Osa peninsula. The river entered the ocean through breaking surf during our passage and the boat was unable to enter the Rio Agujitas leading to our destination because of heavy rains. So we landed at a beach and hiked to our home for the next three days at La Paloma Lodge.
The heavy rains closed the Corcovado National Park but did not prevent a successful tour through the Sierpe Mangroves. Our favorite photos include a toucan, a scarlet macaw, an egret, a woodpecker and a black vulture. Along the river banks and in the trees we spotted monkeys, crocs and iquanas.
The La Paloma Lodge where we dined was open to the forest as were our bathrooms in our "deluxe rancho". Bedrooms had views of the harbor.
The last day included another boat trip from La Paloma on the Aguajitas to the Drake Bay airstrip taxi stop. From there we flew directly to San Jose, spent the night, and boarded a Copa flight to Panama City then a nonstop to Boston.
• More Winterset adventures •