single post
A one week cruise in Alaska – August 2019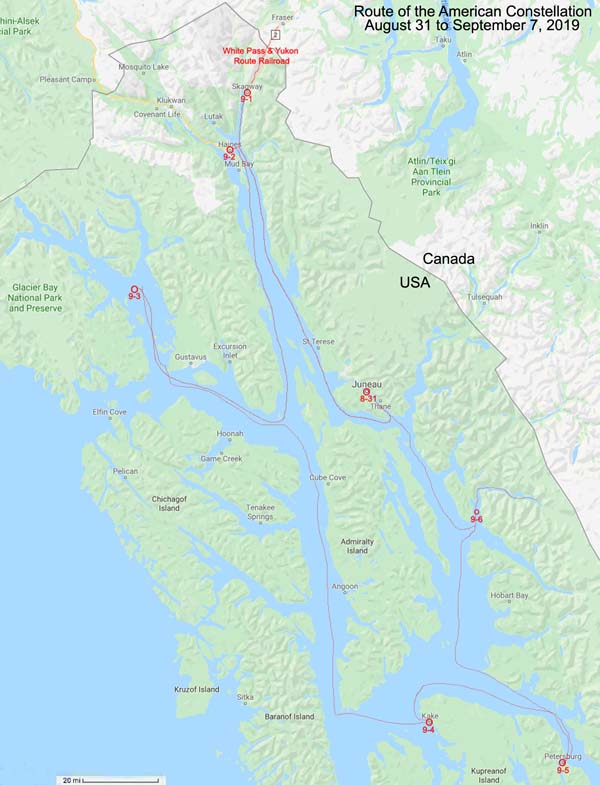 On Tuesday, August 27 Bebe, Howie, Kristen and Tom flew from Hartford to Seattle where we spent two days before boarding a flight to Juneau, Alaska. In Seattle we toured the nearby Boeing plant, Seattle's Space Needle and Chihuly Gardens.
Arriving in Juneau a day ahead of boarding our cruise ship we were able to view the city and harbor from a hilltop by taking a tram. That afternoon we boarded a float plane which took us from the harbor over the top of the Taku Glacier to a lakeside lodge where we were served Salmon roasted on an open grill. A young bear waited nearby as the salmon was grilled. When the grilling was done and the salmon taken into the kitchen the bear climbed onto the grill to scarf up any remains.
Saturday morning we joined the other cruise patrons for a bus tour of Juneau and transfer to American Constellation for a 3PM departure.
We arrived early Sunday in Skagway, the most northerly port in our cruise. There we took a streetcar tour followed by a round trip on a narrow gauge railway across the nearby border into the Canadian Yukon toward Whitehorse, the destination during the Klondike Gold Rush in 1898.
Early Monday AM our ship traveled to Haines, Alaska where the four of us spent many hours with photographer-guide capturing scenery and wildlife. We watched a young bear turning over rocks at water edge looking for "picklefish" and discouraging competition from a hungry seabird. We watched a momma bear escort her young along the river bank to catch salmon in the shallows.
The ship moved overnight to Glacier Bay where accompanied by a park ranger, we viewed from the top deck sea lions, nesting seabirds and glaciers calving into the bay.
Our ship left Glacier Bay Wednesday midday and stopped at Kake for a tour of Tlingit carving, totem poles and an enormous whale skeleton.
We arrived early Thursday in Petersburg, home port to a diverse fishing fleet. During the night our ship left Petersburg and traveled 70 miles north arriving at the entrance to Tracy Arm early Friday morning. Continuing another 30 miles east we reached the face of the Sawyer Glacier. On our return we watched seals swimming downriver or floating on large icebergs.
At 5:15 Saturday morning we bused to the Juneau airport, flew to Seattle, connected with a Southwest flight to Hartford and home.
• More Winterset adventures •