single post
Two weeks in Iceland – May 2019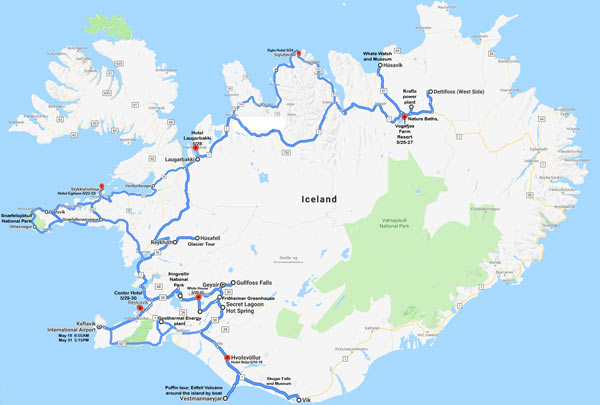 On Friday, May 17 Bebe, Howie, Dana and Claude drove to Logan airport in Boston, parked the car at the Comfort Inn and boarded a flight to Reykjavik, Iceland arriving on Saturday morning. We picked up a rental car, visited a Geothermal energy plant and continued to the Hotel Selja in Hvolsvollur. The next day we boarded an early ferry to Vestmannaeyjar on an island off the southwest coast.
Our daylong visit included a tour with "the Puffin Whisperer" who introduced us to his favorite puffin and to the Eldfell volcano created by the 1973 eruption. We circled the island by boat before returning to the mainland.
On Monday we explored the southwest coast as far as Vik with a visit to the Skogar museum and the 60 meter Skogar Falls before heading north to the White House in Reykholt. From this base we visited the Fridheimer indoor gardens where tomatoes and cucumbers are grown, the Geysir geothermal field, Gullfoss Falls and swam in the Secret Lagoon Hot Spring.
On Wednesday May 22 we headed northwest through Pingvellir national park and on to the Snaeffellsnes peninsula where we used the Hotel Egilsen as our base for two nights. The peninsula has a glacier capped volcano, black lava fields and waterfront basalt columns created by volcanic activity.
We left the peninsula on Friday and followed the coast northeast to Siglufjordur for a night at the Siglo Hotel. The town hosts a five day music festival every year and includes a Folk Music Center where traditional Icelandic instruments are displayed.
From Siglufjordur we continued east along the coast then headed inland to the Vogafjos Farm Resort on Lake Myvatn where we stayed three nights in a cabin while exploring the surrounding terrain. These included a climb to the rim of the Hverfjall crater, a visit to the Godafoss a tour of the Husavik Whale Museum and whale watching just below the arctic circle aboard a ship from Husavik.
On Monday we visited the Krafla Geothermal area where Iceland's largest power station produces electricity from underground wells.  Here is how accessible hot water is.
Then we returned to the west on route one as far as Laugarbakki where we spent one night. We saw herds of Icelandic ponies everywhere  we traveled including  a group being moved along the highway by riders on horseback. Our destination on Wednesday was Husafell from which we would be transported in special vehicles onto the Langjokull glacier. A tracked vehicle took us to the entrance of a tunnel to the interior of the glacier.
Our last two nights were spent in a hotel in Reykjavik where we spent a day at the waterfront and another at the Viking history museum on our way to the airport for a 5:15PM flight to Boston.
• More Winterset adventures •