single post
A Mississippi Cruise in April 2017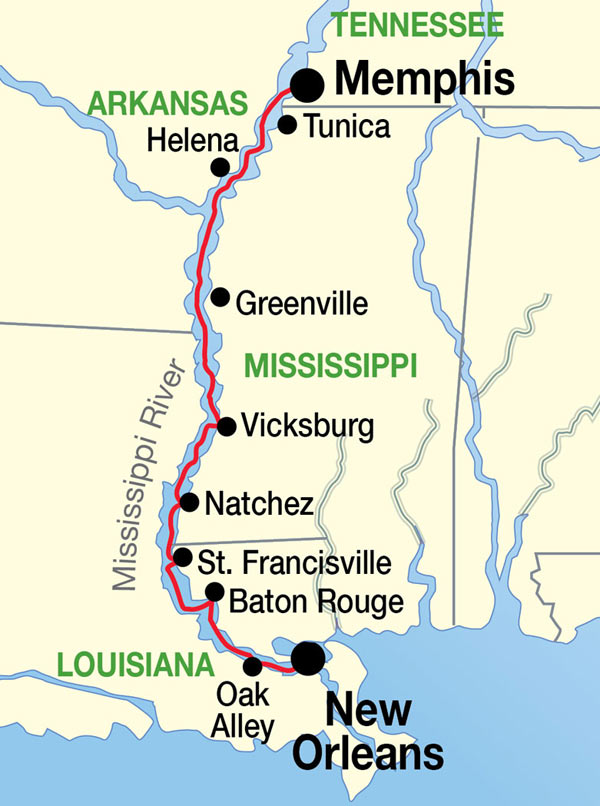 In March 2017 we were invited to join Kit Wilson (our 94 year old sister in law) and her partner Ralph Van Woert (whose 100th birthday we celebrated in March) on a lower Mississippi cruise. Excited about the prospect we flew from Boston to New Orleans on April 12, checked into the Wyndham Garden hotel for some pre cruise sightseeing in New Orleans.
Our hikes through the French Quarter included encounters with Jazz street musicians, these at Jackson square in front of the Cabildo, which houses the Louisiana State Museum.
On Thursday we bought trolley passes and spent the entire day at the fabulous World War II museum. This is a "must see" if you're ever in New Orleans.
On Friday we returned to the airport to meet Kit and Ralph arriving from Vermont and joined the other cruise passengers at the Intercontinental.
Saturday AM we were bussed to a pier to board the Queen of the Mississippi.  The four of us were among 119 passengers spending 7 days on the lower Mississippi. Each room had an outside balcony.
At 1:30PM our boat set off for Oak Alley, LA and we proceeded to the dining room which we would occupy 3 times every day for the following week. Each day began with a breakfast buffet. Every evening began with cocktails, wine and beer with hors d'oeuvres before dinner followed by entertainment with open bar afterwards. My favorite was the "Victory Belles" who sang mostly 40's music in Andrews sisters harmony.
Sunday morning found us moored at Oak Alley, LA where we walked, or if preferred, rode by golf cart to visit Oak Alley Plantation. Oak Alley is named for its canopied path, created by a double row of southern live oak trees planted in the early 18th century. Bebe is dwarfed by the 300 year old trees.
The alley leads to the Oak Alley Plantation mansion. Following a mint julep reception we departed for Baton Rouge.
Monday AM we toured the old State Capitol with its stained glass dome and spiral staircase followed by a visit to Rosedown Plantation and a cemetery where a Union Officer was given a Masonic burial on "The Day the War Stopped"
Our boat travelled all night to Natchez, MS. arriving 10AM at a pier in nearby Vidalia. The Natchez visit included a tour of the Frogmore Cotton Gin where we learned about growing, harvesting, ginning and baling cotton. That afternoon we attended a piano concert at Stonehouse and toured the city.
Another overnight of travel brought us to Vicksburg where we toured the Vicksburg National Military Park and viewed the reconstructed Ironclad USS Cairo which was torpedoed in 1862 and recovered in 1960.
From 5PM Wednesday until 9AM Friday we cruised from Vicksburg to Memphis passing tugs pushing as many as 42 barges up or or down river. The Queen had several indoor and outside sitting areas where the passing scenery could be viewed with a book and a drink in hand. And of course meals continued to appear on schedule.
Friday was spent in Memphis including a stop at Danny Thomas' St. Jude Children Research Hospital and (for us) an afternoon discovering the incredible Betz Museum of Asian and Judaic Art. Among the hundreds of items exhibited were intricately carved mammoth tusks and figures sculpted from jade.
We were entertained on board by Banjo Dan Knowles a banjo maker from Paris Tennessee who teaches his skill and performs frequently aboard cruise boats on the Mississippi and Ohio rivers.
On Saturday morning we left the boat, taxied to the bus station and rode in pouring rain to Nashville, Tennessee. There we visited the "Nashville Parthenon", the Country Music Hall of Fame and spent a day at the Belle Meade Plantation before flying home.
• More Winterset adventures •