single post
Visiting our National Parks in September 2017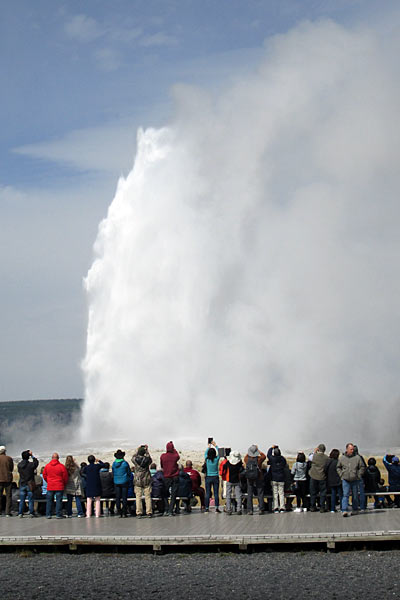 During September 2017 we decided to visit some of the national parks and monuments in Wyoming and South Dakota that we've missed in our many winter ski trips. We began by flying into Jackson Hole on September 15, renting a Jeep and moving into a Motel 6 in Jackson.
Grandson Morgan Carrig and friend Aimee Racette met us the next morning for breakfast then took us to see what the Tetons look like out of ski season.
We rode the new (2008) 100 passenger Tram to the summit of Jackson Hole and gasped at the trails we had skied many years ago without their winter snow cover.
During drive through Grand Teton National Park Morgan pointed out several of his summer hiking destinations. Continuing north we visited Jenny lake and some of the 310,000 acres of meadows and streams contained in the park.
Returning to Jackson we visited the new home that Morgan had acquired just a day before our arrival. Our second day we visited busy downtown Jackson and ended the day with dinner at Jackson Lake Lodge.
On day 3 after another breakfast with Morgan and Aimee we headed north to Yellowstone Park where we arrived just in time to see one of Old Faithful's regular eruptions.
We awoke the next morning at the Lake Yellowstone Hotel to find SNOW ! We drove on the Grand Loop Road along the lake and the Yellowstone River past Mud Pots and the lower falls as far as Canyon Village. Our return to the hotel was in continuing snowfall on unplowed roads.
A second night in our cabin with on and off electric heat then a packed hotel with diminishing food supplies led us to leave a day early as soon as an exit road was opened. We drove southeast past spectacular landscapes through Dubois, Shoshoni then north and the Bighorn River to Thermopolis where we spent the night before continuing north then west to our destination in Cody.
Two of our days in Cody were spent in part at the Buffalo Bill Museums. The Whitney Gallery had a collection of western art. ( Bebe's favorite and Howie's favorite). The Indian museum included several dioramas. A visit to the Buffalo Bill Dam was fascinating. It took five years to build and was surpassed only when the Hoover dam was later constructed.
By our third day in Cody the roads to and from Yellowstone had cleared so we were able to to drive the Chief Joseph Scenic Byway and the Beartooth Pass to Yellowstone's northeast entrance and return from the park via the eastern exit to Cody. Lots of buffalo could be seen.
On Monday September 25 we began our long drive toward South Dakota which included an overnight at the very victorian Occidental Hotel in Buffalo. The town's settlers had included Basque shepherds hence this interesting street sculpture.
The drive continued on Tuesday to our next stop in Keystone, South Dakota at the Buffalo Rock Lodge which was 45 minutes east of Mt Rushmore. The memorial sculptures could be seen from the deck of the lodge.
The Needles Highway continues above the Mt Rushmore Memorial past Black Hills rock formations to the eye of the needle and through a narrow rock tunnel.
Our second day in Keystone took us east to visit the White River Badlands National Park where there were spectacular vistas in every direction.
Day three in Keystone took us to the Crazy Horse Memorial (Here is the model) under construction since 1948 using private funds has progressed to this point.
On September 30 we left Keystone and drove to Lusk, Wyoming where we met Heidi (Abbott) Sturman and her family for dinner. After an overnight in Lusk we continued on to Leslie's home in Longmont, Colorado for several days with her and with Colin before flying home on October 3rd.
• More Winterset adventures •