single post
Sorrento, Italy – November 2018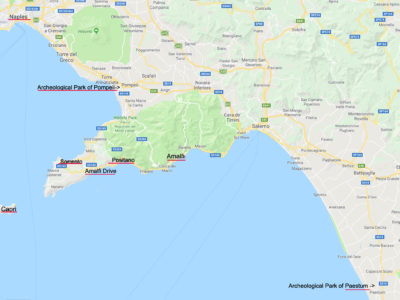 On Sunday November 4, 2018 we drove to Montreal to visit grandson Henry, his wife Stephanie and their two boys Logan and Andrew. That evening we boarded a Lufthansa flight to Munich. It arrived in time for a midday flight to Naples, Italy.
A taxi took us from Naples to the Sorrento Plaza hotel in Sorrento. Dana and Claude arrived later by boat from Naples following several weeks performing in France.
After a good night's sleep the four of us explored the Sorrento waterfront and returned to the hotel for a dinner reception with our Smithsonian Journeys group.
On Wednesday the group boarded a boat to Capri, viewing the cove studded coastline, then up a funicular to explore the island's gardens and overlooks.
On Thursday we visited a dairy farm where Mozzarella di Bufala is produced. Then visited the archaeological site Paestum with it's well preserved ancient Greek temples.
Friday we traveled the coast to Amalfi with its villas, terraced vineyards and cliffside lemon groves. We continued by boat to Positano another cliffside village with a pebble beachfront and steep, narrow streets lined with boutiques and cafes. We returned to Sorrento in a smaller bus able to negotiate the winding roadway along the cliffs.
Saturday took us to Naples to the National Museum of Archaeology with its incredible collections of Greek and Roman sculptures and frescoes.
On Sunday our group toured Pompei and Herculaneum which were buried by the 79 A.D. eruption of Mount Vesuvius, rediscovered in the 1700s and excavated since then. Plaster casts of  victims were made by filling the voids where they laid.
Monday was our last day in Sorrento and was spent exploring the Excelsior Vittoria Gardens, a nearby lemon grove and ended with a farewell dinner at which we were surprised with a video of our tour prepared by our guide and a performance by Dana and Claude.
On Tuesday Bebe and Howie flew back to Munich where we spent two nights at an airbnb. We spent Wednesday at the Deutsches Museum viewing among others, exhibits displaying the early days of flight.


• More Winterset adventures •